About Us
Developed by an elite team of safety professionals.
Developer backgrounds in robot, machine, process and material handling systems.
Software in strict compliance with ANSI/RIA Standards.
Entirely focused on making risk assessment efficient.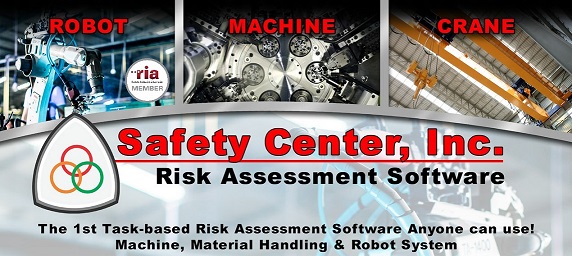 Safety Center is focused on making task-based risk assessment as easy to do as possible. Part of that reasoning was why our software is in the Cloud as a subscription. The Cloud is much easier to deploy, develop and manage. After 6 years, it is clear now that Safety Center software is a key tool for any Safety Program. Never before has the opportunity for inclusion been so easy. Safety Center addressed the Task-based Risk Assessment software need as directed by the ANSI/RIA. We at Safety Center stand ready to assist you. Thank You for your interest, support and input. We are dedicated to continuously improving this tool.

Safety Center offers online and/or onsite training on how to use our Task Based Risk Assessment software. If requested, we will forward you to virtual safety consultants with expertise in your industry.
Services
Robot Safety Center offers online and/or onsite training on how to use our Task Based Risk Assessment software. If requested, we will even conduct your robot risk assessment for you.
Safety Consulting and Training Including:
Compliance Surveys
OSHA Compliance
Task-based Risk Assessments and Training
Engineering Review
Functional Safety Training
Robot Standards Training
Crane Safety Training
Material Handling Safety Training
Machine/Process Safety Training
Validations
CE Conformity
Robot Integrator Certification
Information Management & SharingSoftware Development and Troubleshooting
Press Safety Risk Assessments
Additional Services Includes:
Robot Safety Center offers software consulting that helps you mold the Task Based Risk Assessment software to your company's needs.
We can deliver information immediately making machine or process information available as needed. Most companies miss the opportunity a risk assessment brings to make information much easier to access on a day to day basis. Risk Assessments typically access pictures, videos, drawings, functional descriptions, maintenance procedures, manuals, spec sheets and more. Wouldn't it be nice if you could access all of this information easily from anywhere on your notebook, tablet or cell phone?
We deliver measurable results to our clients by delivering on their individual needs
We combine forward thinking strategies with down to earth software based solutions.
Our solutions are proven, innovative and methodical, delivering a solid proof of concept and an ROI that can be monitored.
We are experts at collaboration. We can bring your Safety Team together no matter where they are.
Communications is key to everyday business, but even more key when an accident occurs. We know how to help in a methodical, coordinated manner that incorporates guidelines from the standards.
We are connected with 100's of consultants across the world. In many cases we can link the right consultant with our clients for the value added service they need.
SignUp Now!
The new way to perform real-time risk assessments for your plant. Keep everything in one place. Drive your business forward with safety & protection. SignUp Now!
SignUp Now!
Approach
The Safety Center approach to Task-based Risk Assessment.
Approach to Return on Investment based Safety Proposals.
Developed by one of the world's most experienced and talented user interface software groups.
Requires participation from all Safety Team members.
Continuous Improvement and Lessons Learned from ANSI/RIA committee members and clients.
Focus on accurate, easy and fast data entry.
Anyone who can use a browser can use this software – inclusion and ownership.
When we polled our clients regarding the major obstacles to making a safety program work, we received the following statements:
It is difficult to get commitment.
Safeguards are being removed and left off the machines.
Safeguards are being bypassed.
Safety meetings are not always attended and it is difficult to get people focused.
Maintenance people feel that safety gets in the way of their job.
Promotional Plans & Pricing
Pay As You Go
$1499
Sign up
2 USER (Prepaid)
Selective Risk assessments (Pay As You Go)
Validity 180 Days (Prepaid)
Interactive Dashboard
Unlimited Verifications
Unlimited Validations
Custom Parameters
Excel Download
Extention Just 99$
12 Months
$6495
Sign up
4 USERS / PLANT (Cancel Anytime)
Unlimited Risk assessments
Validity 12 Months Annual
Interactive Dashboard
Unlimited Verifications
Unlimited Validations
Custom Parameters
Excel Download
Annual Billing options
Ultimate
Call
Contact Us
If you are looking for a custom solution, we can help you build it for your businesses that requires highly customizable and integrated risk assessment solutions to suit your complex needs.
Contact
Location:
2478 Mount Vernon DR. Fairfield,OH 45014
Email:
support@robotsafetycenter.com